Bringing our customers the best products and services in the market.
Are you tired of working for someone else and dreaming of being your own boss? Starting your own business can be a challenging but rewarding journey that can lead to financial freedom and personal fulfillment. And what better way to start your own business than by owning a vending machine?
Nu Vending offers a wide range of vending machines for sale in Malaysia, including snack and beverage vending machines, food vending machines, and smart vending solutions. We can provide guidance on choosing the right vending machine for your needs and offer training on how to operate and maintain it. We also offer location assistance to help you find the best places to position your vending machine for maximum exposure and sales.
Food vending machines are also becoming increasingly popular in Malaysia, particularly in busy areas like airports, train stations, shopping malls, and hospitals. Food vending machines can dispense a wide range of products, from hot meals to snacks, desserts, and beverages. They are designed to keep the food items hot or cold, while others have microwave ovens or toasters built-in to prepare the food on demand.
Owning a vending machine business is also a low-risk investment that can generate passive income. Vending machines have a high return on investment (ROI) and can generate a steady stream of income with minimal maintenance and upkeep. With the right location and product mix, you can maximize your profits and expand your business over time.
If you are interested in buying vending machine, food vending machine, or any other type of vending machine in Malaysia, please browse through our selection or contact us for assistance.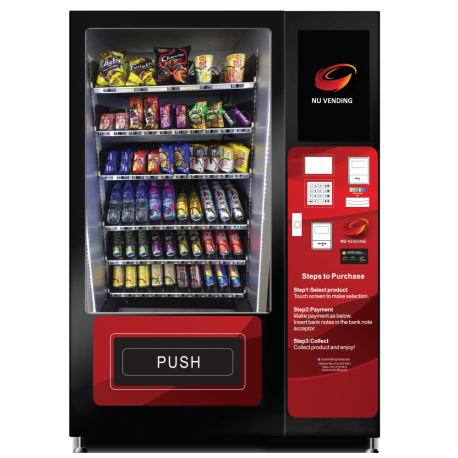 NUBOX MIX AND MATCH ANDROID PRO (NUBOX MMAP)
Click to View Specifications
Android Operating System
22 Inches Touchscreen
MDB interface
Bill Validator : Cash Code (Canada) / NRI (Germany) / ITL (UK) / ICT (Taiwan)
Coin Acceptor and Changer
Online Tracking System (GPRS) on Sales Management and Fault Codes
Anti-explosion, dustproof, waterproof luminous metal keyboard
Drop sensor
Customization of spiral slots
Cooling system – R134A meets ROHS
requirement
Digital display of temperature
Control cooling temperature (4 degrees Celsius – 25 degrees Celsius)
Maximum product choices: 60
Product reserves: 350-1050 pcs
Machine size: 1840(H) x 1332(W) X 860(D) mm
Weight: 370kg
Electricity: AC100-240V,50/60Hz
Payment System
QR E Wallet Payment – Grab Pay, Boost, Maybank QR
Debit & Credit Card Paywave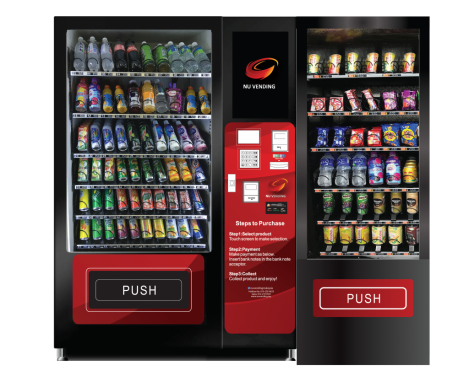 NUBOX MIX AND MATCH ANDROID + (NUBOX MMAP+)
Click to View Specifications
NUBOX PRO Mother Board
(NUBOX Vending Protocol with Android Operating System)
NU VENDING Android and IOS App
(Data Analytics, Sales And Inventory Management, Reports, Alerts,
Notification, E-marketplace, Wallet Balance, Remote Access.)
22 Inches Touchscreen
MDB interface
Bill Validator : Cash Code (Canada) / NRI (Germany) / ITL (UK) / ICT (Taiwan)
Coin Acceptor and Changer
Online Tracking System (GPRS) on Sales Management and Fault Codes
Anti-explosion, dustproof, waterproof luminous metal keyboard
Drop sensor
Customization of spiral slots
Cooling system – R134A meets ROHS
requirement
Digital display of temperature
Control cooling temperature (4 degrees Celsius – 25 degrees Celsius)
Maximum product choices: 96
Product reserves: 576 -1626 pcs
Machine size: 1850(H) x 1910(W) X 860(D) mm
Weight: 470kg
Electricity: AC100-240V,50/60Hz
Payment System
QR E Wallet Payment – Grab Pay, Boost, Maybank QR
Debit & Credit Card Paywave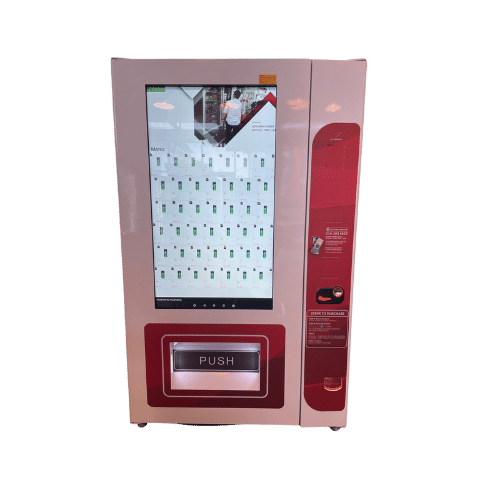 NUBOX MIX & MATCH ANDROID PRO 49 
Click to View Specifications
NUBOX Technology (Multiple Purchase & Purchase with Purchase Features)

NUBOX Pro Mother Board (NUBOX Vending Protocol with Android Operating System)

NUBOX Retail Solutions App (Data Analytics, Sales And Inventory Management, Reports, Alerts, Notification, E-marketplace, Wallet Balance, Remote Access.)

49 Inches Android Touchscreen

Drop Sensor

Cooling system – R134A meets ROHS requirement

Control cooling temperature (5 Degree Celsius – 25 Degree Celsius)

Maximum Product Choices: 60 (With Chiller)

Maximum Product Quantity: 360 – 960pcs

Machine size: 1920mm(H) x 1332mm(W) X 855(D) mm

Weight: 370kg

Electricity: AC100-240V, 50/60Hz


Payment System

Bill Validator: Cash Code (Canada)/ ITL(UK)/ ICT (Taiwan)

Coin Acceptor and Changer (NRI/Germany)

QR E-wallet Payment: Grab Pay, Boost, and Touch N Go

Debit & Credit Card Paywave (Master Visa and all bank ATM card)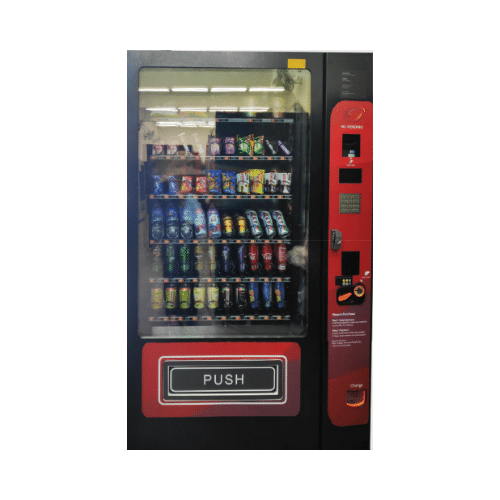 NUBOX MIX & MATCH BASIC (MMB)
Click to View Specifications
NUBOX Basic Mother Board (NUBOX Vending Protocol)

NUBOX Retail Solutions App (Data Analytics, Sales And Inventory Management, Reports, Alerts, Notification, E-marketplace, Wallet Balance, Remote Access.)

MDB interface

Anti-explosion, dustproof, waterproof luminous metal keyboard

Drop sensor

Cooling system – R134A meets ROHS requirement

Digital display of temperature

Control cooling temperature (5 degrees Celsius- 25 degrees Celsius)

Maximum product choices: 60 (With Chiller)

Product reserves: 60-960 pcs

Machine size: 1933mm(H) x 1304mm(W) X 795mm(D)

Weight: 370kg

Electricity: AC100-240V,50/60Hz

Payment System

Bill Validator: Cash Code (Canada)/ ITL(UK)/ ICT (Taiwan)

Coin Acceptor and Changer (NRI/Germany)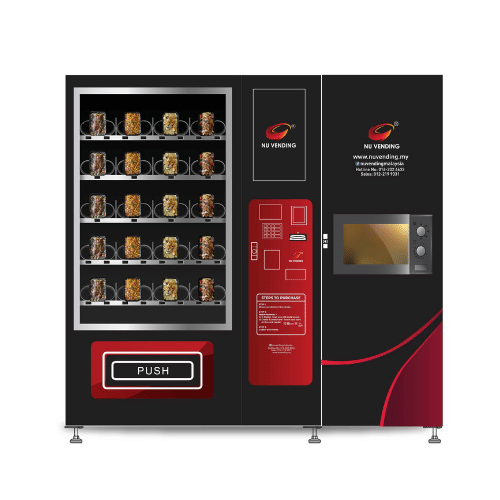 NUBOX MIX & MATCH ANDROID PRO WITH MICROWAVE
Click to View Specifications
22 Inches Android Touchscreen

Product Lifter with Drop Sensor

Cooling system – R134A meets ROHS requirement

Control cooling temperature (4 Degree Celsius – 25 Degrees Celsius)

Maximum Product Choices: 20 (With Chiller)

Maximum Product Quantity: 80 – 100pcs

Machine size: 1920mm(H) x 1350mm(D) X 855mm(W)

Submachine size(microwave): 1920mm x 600mm x 690mm

Weight: 350kg + 64kg

Electricity: AC100-240V, 50/60Hz


Payment System

Bill Validator: Cash Code (Canada)/ ITL(UK)/ ICT (Taiwan)

Coin Acceptor and Changer (NRI/Germany)

QR E-wallet Payment: Grab Pay, Boost, and Touch N Go

Debit & Credit Card Paywave (Master Visa and all bank ATM card)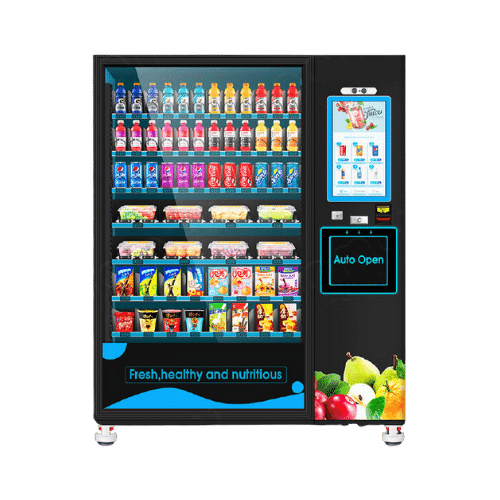 MIX & MATCH WARM FOOD MACHINE
Click to View Specifications
21.5 inches Android Touchscreen

Control cooling temperature (4 – 60 Degrees Celsius)

 Maximum Product Choices: 70 (with Conveyor Belt)

Maximum Product Quantity: 420-560pcs

Machine size: 1960mm(H) X 943mm(W) X 1538mm (D)

Weight: 400kg

Electricity: AC 220V, 50HZ
Features

Keep warm at 40°C Degrees Celsius

Intelligent elevator platform

Intelligent temperature control

Dual refrigerated module
Payment System

Bill Validator: Cash Code (Canada)/ ITL(UK)/ ICT (Taiwan)

Coin Acceptor and Changer (NRI/Germany)

QR E-wallet Payment: Grab Pay, Boost, and Touch N Go

Debit & Credit Card Paywave (Master Visa and all bank ATM card)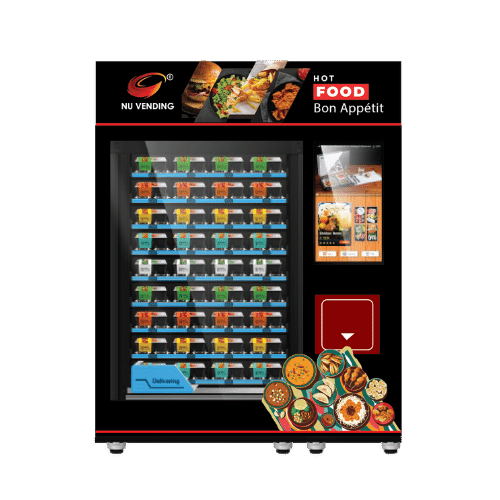 Click to View Specifications
32 inches Android Touchscreen

Control cooling temperature (4 – 50 Degrees Celsius)

Maximum Product Choices: 108 (with lifter)

Maximum Product Quantity: 819pcs

Machine size: 2387mm(H) X 1830mm(W) X 1023mm (D)

Weight: 1000kg

Electricity: AC 110V/220~240V, 50/60HZ

Build in microwave
Features

Constant temperature and humidity laboratory

Steady delivery with lifting platform

Intelligent management of microcomputer control system

Foaming machine

Isolate hot and cold gas.
Payment System

Bill Validator: Cash Code (Canada)/ ITL(UK)/ ICT (Taiwan)

Coin Acceptor and Changer (NRI/Germany)

QR E-wallet Payment: Grab Pay, Boost, and Touch N Go

Debit & Credit Card Paywave (Master Visa and all bank ATM card)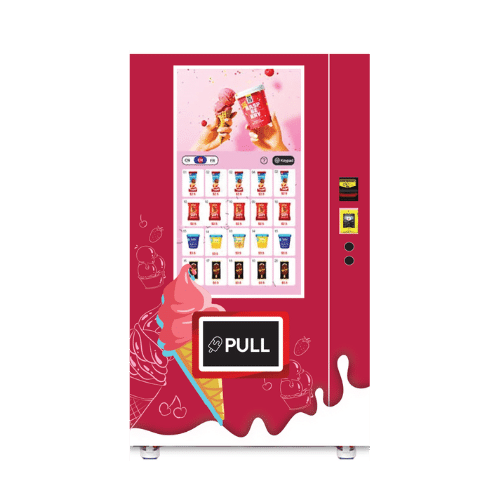 NUBOX MIX & MATCH FROZEN (BASIC)
Click to View Specifications
49 Inches Touch Screen

Control cooling temperature (4 to -25 Degrees Celsius)

Maximum Product Choices: 45

Maximum Product Quantity: 270-500 pcs

Machine size: 1960 mm x 1163 mm x 944 mm

Weight: 470Kg

Electricity: 110/220V-240V, 50HZ-60HZ
Features

NUBOX Advance + Mother Board (NUBOX Vending Protocol with Android Operating System)

NUBOX Retail Solutions App (Data Analytics, Sales And Inventory Management, Reports, Alerts

Notification, E-marketplace, Wallet Balance, Remote Access

Payment System

Bill Validator: Cash Code (Canada)/ ITL(UK)/ ICT (Taiwan)

Coin Acceptor and Changer (NRI/Germany)

QR E-wallet Payment: Grab Pay, Boost, and Touch N Go

Debit & Credit Card Paywave (Master Visa and all bank ATM cards)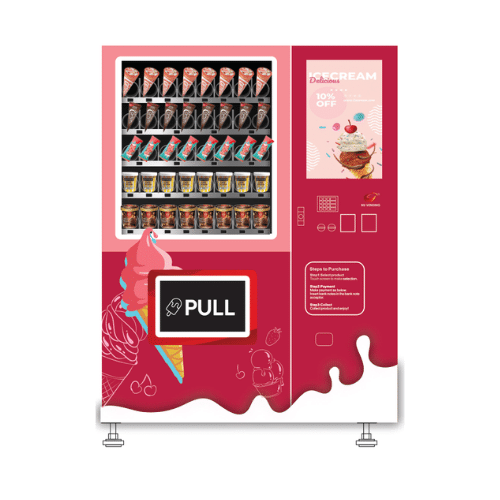 NUBOX MIX & MATCH FROZEN PRO
Click to View Specifications
22" inches touch screen

Control cooling temperature (-18 C Degrees Celsius)

Maximum Product Choices: 54

Maximum Product Quantity: 270-500pcs

Machine size: 1940mm(H) X 1535mm(W) X 875mm (D)

Weight: 410kg/420kg

Electricity: 1430W
Features

Constant temperature and humidity laboratory

Steady delivery with lifting platform

Intelligent management of microcomputer control system

Foaming machine

Isolate hot and cold gas.




Payment System

Bill Validator: Cash Code (Canada)/ ITL(UK)/ ICT (Taiwan)

Coin Acceptor and Changer (NRI/Germany)

QR E-wallet Payment: Grab Pay, Boost, and Touch N Go

Debit & Credit Card Paywave (Master Visa and all bank ATM card)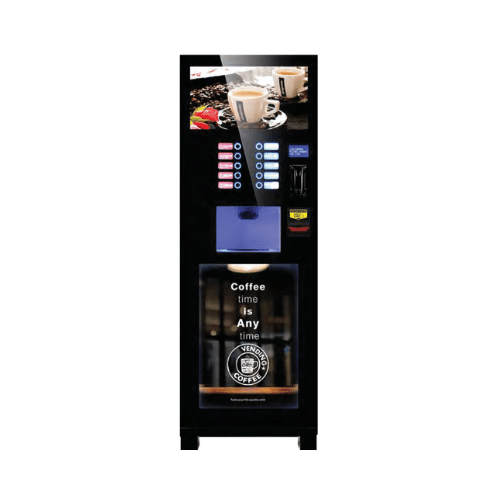 NUBOX BESCAFE COFFEE GOLD MACHINE
Click to View Specifications
22" Large LCD Advertisement Screen

Black tempered glass, touch button input,top grade luxury

MDB interface

High speed mixer

Electricity leakage protection function

Maximum product choices: 4premixed hot drinks& 1 hot water

4pcs of powder Canisters

Cup quantity: 130pcs (6.5-8.00 ounce)

Warm water barrel capacity: 1.8L

Water supply barrel capacity: 19L

Water supply: direct piping or water bottle

Machine size: 1610(H) x 580(W) X 620(D) mm

Weight: 115kg

Electricity: AC220V,50Hz

Rated power: 900/1800W


Payment System

Bill Validator: Cash Code (Canada)/ ITL(UK)/ ICT (Taiwan)

Coin Acceptor and Changer (NRI/Germany)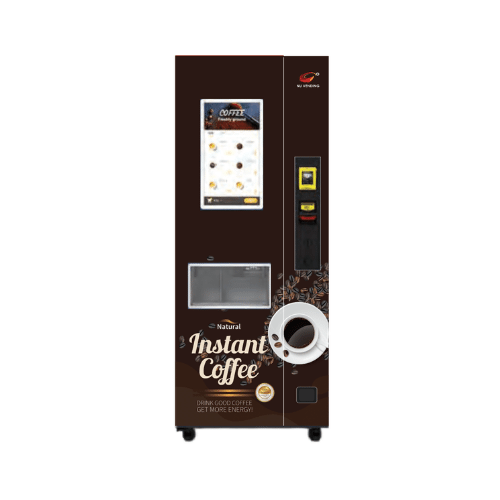 BESCAFE COFFEE PLATINUM MACHINE
Click to View Specifications
22′ Android Touch Screen

Water Temperature : 92 C

Making time: About 45s

Cup capacity: 140 cups, 140caps (optional)

Cup size: 9 oz

Coffee bean hopper: 1.5 Kg

Instant canisters: 6 canister x 4 L

Water source : 38 L

Brewer system: 7-16g powder

Machine size: 1940mm(H) x 735 mm(W) x D: 790mm (D)

Weight: 220 Kg

Peak Power: 3000W Standby power: less than 25W

Voltage: AC100V-240V,50/60HZ
Features

Precise temperature control. 92*C best for extracting water temperature

9 BAR best-extracting pressure abundant extracting oil excellent taste

Have a variety of flavors (americano, Italian expresso, white coffee, latte, cappuccino, mocha)

Coffee is dispensed in 45 seconds, high efficiency

Fully automatic mode

Customized drinks & fast and convenient
Payment System

Bill Validator: Cash Code (Canada)/ ITL(UK)/ ICT (Taiwan)

Coin Acceptor and Changer (NRI/Germany)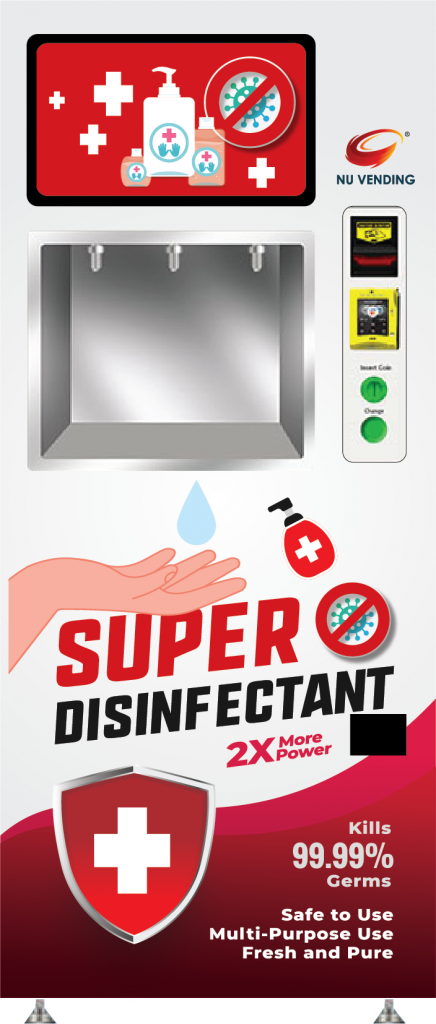 Click to View Specifications
22 Inch Android Touch Screen

Capacity: 3 x 2 x 50L (3 outlets, two barrel for each outlet, 50L for each barrel)

Slot Type : Automatic metering of liquid

Suitable Commodity : Non-toxic, non-volatile liquid with viscosity <300

Machine size: 1956.8mm X 801.7mm X 872.5mm

Weight: 150kg

Electricity: 60W ; AC 220V/50Hz

Current : 0.58A
Features

Double barrels with large capacity, support the replacement of the whole barrel and the loading mode, and support self-provided barrels.

Waste liquid is collected by classification, not mixed, safe and environmentally friendly

The liquid outlet channel is made of food-grade acid and alkali resistant materials, which are safe and reliable.

1~3 varieties can be sold at the same time.


Payment System

Bill Validator: Cash Code (Canada)/ ITL(UK)/ ICT (Taiwan)

Coin Acceptor and Changer (NRI/Germany)

QR E-wallet Payment: Grab Pay, Boost, and Touch N Go

Debit & Credit Card Paywave (Master Visa and all bank ATM card)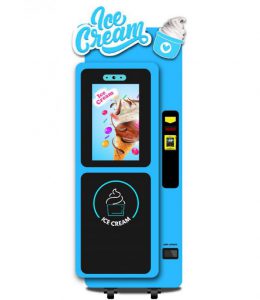 Click to View Specifications
22 inches Android Touchscreen

Control cooling temperature (0 – 38°C Degrees Celsius)

Maximum Flavor Choices
: 1 fresh milk x 3 jam x 1 nut (standard version)
: 1 fresh milk x 3 jam x 3 nut (upgraded version)

Maximum Cup Quantity: 90 pcs of cups

Machine size: 1800mm(H) X 740mm(W) X 800mm (D)

Weight: 260kg

Electricity: AC 100V-240V, 50HZ/60HZ
Features

Anti-ant design (Food refrigeration & isolation system)

Multiple flavor (can be matched more than 60 flavors)

16s quick making (dispensing less than 16s, about 25s with jam & nuts)

Automatic cleaning (Intelligent thawing, one button cleaning)
Payment System

Bill Validator: Cash Code (Canada)/ ITL(UK)/ ICT (Taiwan)

Coin Acceptor and Changer (NRI/Germany)

QR E-wallet Payment: Grab Pay, Boost, and Touch N Go

Debit & Credit Card Paywave (Master Visa and all bank ATM card)



Nu Vending Big Data Analytics

Nu Vending Sales Force Automation


Customizable Loyalty Program

Software Solutions & Integration

24 Hours Hardware & Software Support





Location Securing Assistance

Delivery, Installation, Setup & Training


Refilling Supplies & Products Services